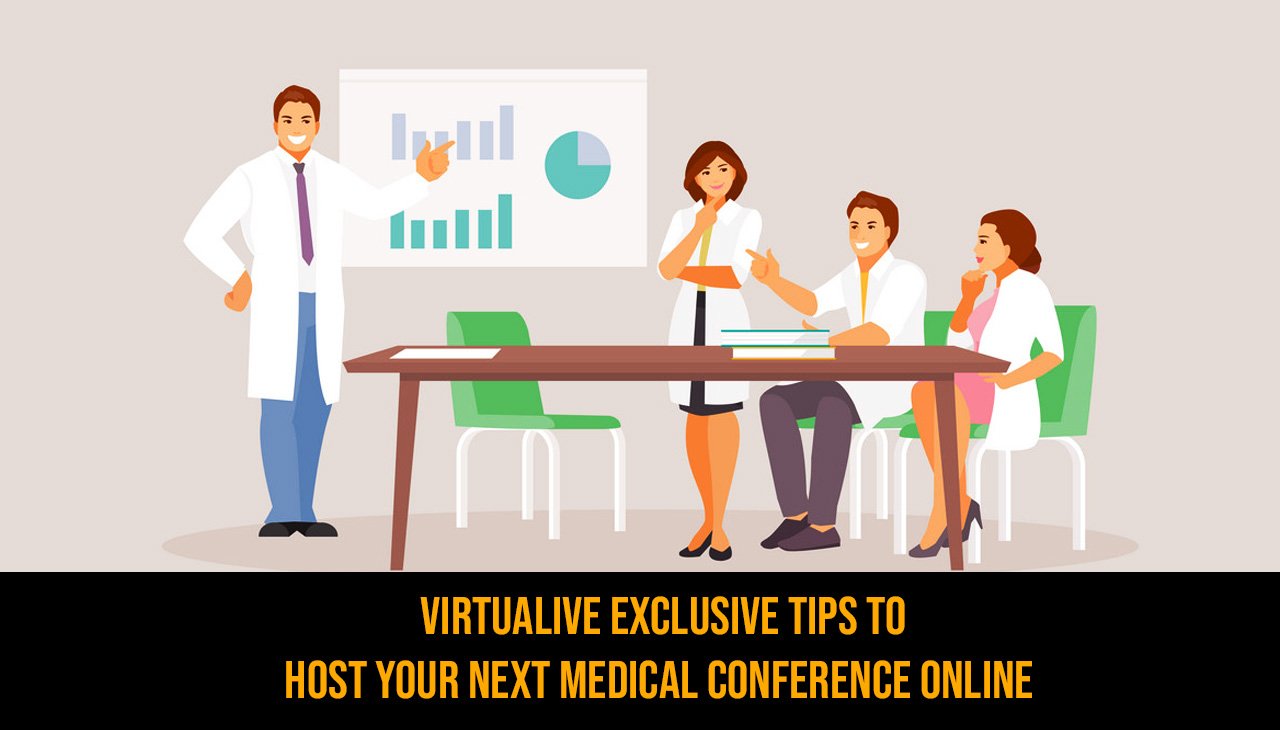 With the online and digital era and the current Coronavirus pandemic, hosting any virtual events and particularly medical conferences can be a great idea to capitalize on what's coming your way.
In order to deliver a medical marvel to your virtual delegates, we have jotted down the 10 most important tips in detail to host your next virtual medical conference.
Give top priority to your e-patient and patient audience for the medical conference
The bright proceedings of any medicine and healthcare depend on giving patients the top priority and inclining them as the center of discussion. Never leave them out from your conference planning as they will be more interested to attend and know more than others in the lot. Always remember, they're your distinct audiences to target and serve as they like to be on top of their health-related information.
Also, e-patients are those who use online channels to gather information and understand their health improvement, new changes to the medical arena, effective ways to stay healthy, and much more.
Make a strategy to invite, ask and engage them.
Promote and engage attendee participation through social media
We believe virtual conferences of any genre should always stay digital, even after the event. It's important to know the use of hashtags to enhance event brands online. Social media platforms like Twitter, Facebook, and Instagram can plan a big role.
Hashtags are to be used strategically to put forward and navigate the relevant information.
Make your virtual sessions go live on Facebook and YouTube. Hire a good virtual event management software that will enable you to take sessions out of the virtual platform to social media too. So that others can watch it. Live streaming content is the best way to captivate your audience and do insane marketing for your future conferences.
Utilize social media to the fullest extent to engage your delegates.
Engage your attendees
Try to interact with your attendees before, during, and after your conference. This is where your advanced engagement strategies come into the picture. Involve your audience in meeting topics and questions for the speakers. Run quizzes, polls, and Q&A before your event starts online.
Collecting research papers from the speakers in advance
When you invite speakers to speak at your event virtually, in a medical conference, your speakers should technically be from the same medical background and you want to onboard some of the best speakers, presenters to present. Thus, they will need to submit their research papers prior to the event and extract them for you to review and qualify them. This process is known as the nomination.
Presenting subjects in an exciting way
Prepare and draft out how you want your speakers to present themselves. Have the speakers use infographics, an interactive and engaging background, easy-to-read and understandable statistics, engaging your online guests, etc.
Encourage your speakers for a fascinating dialog. It's more than a presentation – it's an intense and positive interaction between your presenters and the virtual audience.
Accept new ideas
Accept new ideas and deliver the same to the virtual audience. The magnitude of significance and deliverance of new ideas should have great insight and balance.
Whether you as an organizer or a moderator, always interact with your virtual attendees and introduce new ideas or your presenters, ensure that they are not over soaked but get the ideas in an innovative way. People should be able and in a position to comprehend, accept and action them.
Embrace the use of Virtual reality
Virtual reality is a great tool for building your online audience and business activities. Although, it requires rigid planning, technology, and brilliant mapping.
It's proven that shared VR by speakers/presenters can deliver excellent results and establish a strong foundation of understanding for the attendees as it's more relatable and technologically advanced.
Focus on valuable content
The easiest process to ensure that your virtual audience is getting the information right is to try to make your conference/event content more digestible and understandable by using different segments like illustrations, graphics videos, and stories.
Apply Marketing efforts strategically
Marketing is everywhere and should be embraced widely because it gives everyone the opportunity to reach out to pools of varied potential attendees.
Embrace and develop audience-specific marketing strategies to invite and engage them.
Take apt feedback after the conference
When you have constructive feedback given by the audience, you will get a clear idea as to what you could have/should have done better to live up to their expectations. You don't have to achieve milestones with your conference, but your conference should be at least acceptable, entertaining, and professional for them.